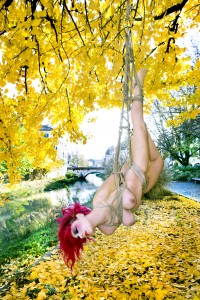 There are special problems for all involved when creating an image outside the privacy and convenience in a photography studio.
This very nice picture will be exhibited by Hikari Kesho at the Art of Contemporary Shibari Exhibit during the Fotofest 2012 Biennial in Houston, Texas.
Watch the following Behind The Scenes video to see how Hikari Kesho created this beautiful image of a gorgeous naked girl, model Silvia Pascal, in shibari rigging in a public setting during the day. Both the image and video are extremely well done. Kudos to all involved.
You can see more videos by Hikari Kesho on his Vimeo channel.